Stefan's review on using natural variation to understand conserved drug responses is published!
---
Congratulations to Stefan for his review published at Current Opinions in Genetics and Development!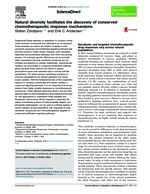 Natural diversity facilitates the discovery of conserved chemotherapeutic response mechanisms
Zdraljevic S
,
Andersen EC
(2017 Sept 09)
Curr. Opin. Genet. Dev.
[
DOI
|
Pubmed
]